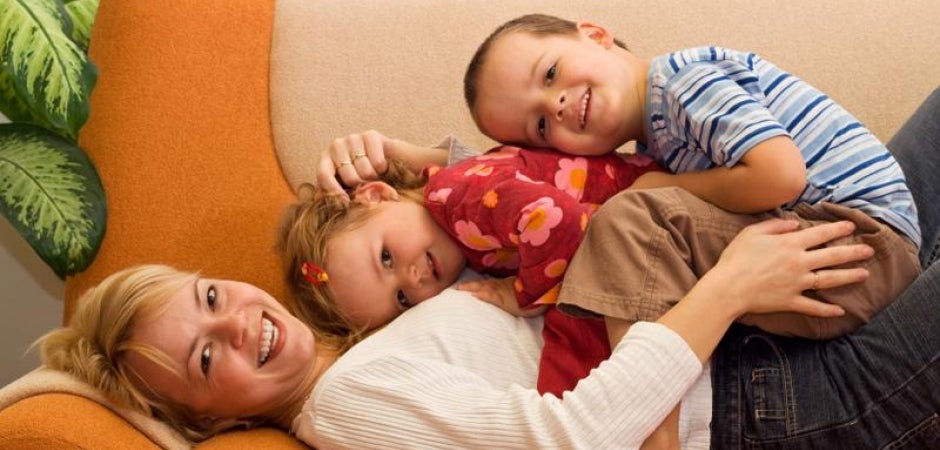 The Peggy V. Helmerich Women's Health Center offers the services of physician specialists in gynecological oncology, uro-gynecology, reproductive endocrinology and breast surgery. Our physicians utilize the latest multidisciplinary approaches and proven procedures in caring for women.
Specialists are available to ensure access to the newest treatments for incontinence, pelvic disorders, breast disease, and gynecologic cancer. These physicians afford patients the opportunity to participate in some of the newest research trials, innovative procedures, and medical services.
A beautiful Women's Care unit, comprised of all private suites, provides a peaceful setting for recovery from surgical and other procedures. The spacious rooms appear non-clinical with the look and feel of a nice hotel suite. Decorated in wood tones with soft lighting and an oversized shower, suites are very comfortable and include in-room guest accommodations.
Women's Health Services @ Hillcrest
Breast Health
Breast cancer is the most common malignancy in women and the second leading cause of cancer death.  Risk factors include early onset of menstruation, late onset of menopause, high-fat diet, family history, late or no pregnancies, high alcohol intake, use of estrogen replacement therapy, prior breast cancer, radiation to the chest wall and moderate obesity. The Leta M. Chapman Breast Health Center is designed just for women and their breast health. The exceptional staff strives to provide women with a caring, comfortable, and professional atmosphere while offering services from screening to post-mastectomy apparel. Early detection is critical for survival. For this reason, the center features state-of-the-art equipment for early diagnosis and accurate evaluation of breast cancer. Visit the Leta M. Chapman homepage section for more information or contact the center directly at (918) 579-8080.
Osteoporosis
Osteoporosis is the severe loss of bone, causing brittleness and weakness, particularly common in the spine, wrists and hips. Some bone loss is normal as people age; however, osteoporosis is a debilitating disease that affects over 8 million women in the U.S. One in two women over age 50 will have an osteoporosis-related fracture in her lifetime. In fact, women can lose up to 20% of their bone mass in the five to seven years following menopause, making them more susceptible to osteoporosis. The Leta M. Chapman Breast Health Center, located in the Peggy V. Helmerich Women's Health Center, is equipped to assist with early screening and detection of osteoporosis. Please visit the Leta M. Chapman homepage for more information about osteoporosis screening and technology.
Cardiology
More than 8 million American women currently live with heart disease. One in three will die as a result, making it the #1 killer of women. Significant risk factors include high blood pressure, high cholesterol, diabetes, smoking, obesity and physical inactivity. Women often have atypical symptoms like new episodes of fatigue, shortness of breath, insomnia, indigestion, and/or an anxious feeling rather than the classic crushing chest pain and tingling down the left arm that men typically experience. Visit the Cardiology section for more information and cardiology resources for women. The Oklahoma Heart Institute (OHI) cardiologists and endocrinologists, can offer you complete heart care, from prevention and diagnosis to treatment and rehabilitation.
Surgical Care
With new surgical innovations being developed each day, it is important to have access to a group of well-trained surgeons. From mastectomies and lumpectomies to general surgery and bariatric procedures, the professionals practicing at Hillcrest Medical Center are prepared to meet the needs of women in all stages of life. The Oklahoma Spine & Orthopedic Institute specializes in disorders of the musculoskeletal system, providing non-invasive and surgical treatments for foot and ankle, hand and wrist, knee, shoulder and elbow, spine, hip and sports injuries. Oklahoma Spine & Orthopedic Institute is located at 1265 South Utica and can be reached by phone at (918) 582-6800.
There are 25.8 million people in the United States, who have diabetes and over 41 million Americans currently have prediabetes.The team of dedicated employees at the Hillcrest Center for Diabetes  Management strives to give you the latest clinical information, answers to questions, and education on how to take control of your diabetes. Teams consist of dietitians and nurses, certified pump trainers, certified diabetes educators, exercise physiologists and behavioral health specialists, all of whom are eager to help you.
Services Offered:
Classes for Type I, Type II & Gestational diabetes
Dietary Counseling
Meal Planning
Lifestyle Change & Behavior Adjustment Instruction
Insulin and Oral Medication Administration
Blood Glucose & Urine Testing
Nutrition consultations for Prediabetes patients
For more information on these services, please call (918) 579-3385.
Urinary incontinence is uncontrollable leakage of urine from the bladder. Women experience urinary incontinence twice as often as men due to pregnancy, childbirth, menopause and the physical structure of the female urinary tract. The causes of urinary incontinence are treatable and frequently curable, but women need to see a physician for help. Treatments include exercise, electrical stimulation, biofeedback, timed maintenance, medication, pessaries, implants, catheterizations, and advanced surgical procedures. Urologists and most gynecologists are trained in the latest incontinence treatments. Click on our Physician Search to locate a gynecologist or urologist.
Over 80,000 times per year, a woman in the United States is diagnosed with a gynecologic cancer, and about 26,000 women will die this year as a result. Gynecologic Oncology is a medical specialty that deals with the study and treatment of malignancies arising in the female reproductive tract. Ovary, endometrium, cervix, vulva and vagina are where the most common and serious gynecological malignancies occur. Gynecologic oncologists are cancer specialists trained in the biology and pathology of gynecologic cancers and ensure continuous patient care as opposed to the disjointed care of several different specialists. Click on our Physician Search to locate a gynecologist.